Life is too short to drink bad beer.
Today's featured startup, TapHunter, is a leading force within the craft beer movement that connects craft beer fanatics with the beers they love, the brewers who brew them and the locations that pour them. 
By keeping track of what's on tap and where, Tap Hunter's web and mobile app platforms have the ability to direct millions of craft beer fans to the best beer-centric venues, from pubs and breweries, to special events and festivals in 10 major cities across the US. Tap Hunter is regularly featured in the media as a craft beer resource, including The Huffington Post, Travel + Leisure. Founders Melani and Jeff Gordon were recognized by San Diego Magazine's Top 50 to Watch in 2012. Read our interview with TapHunter co-founder, Melani Gordon.
What inspired you to start your company?
Life is too short to drink crap. We've always been on the hunt for a great quality product. We believe the average person has really good taste, they just need to be exposed to it. And so our mission began, help the beer fanatics find their favorite rare beers and educate the average consumer on what great craft beer is all about.
Tell us something unique about you and your co-founder(s)?

We're married! Besides being married for 6 years this is not our first time working together. We first worked together at Z57, one of San Diego's fastest growing privately held companies. We knew pretty quickly on that we wanted to run our own company one day.
What problem does your product or service solve?
TapHunter's web and mobile-based marketing tools facilitate a much-needed data exchange helping consumers locate the beer of their choice while helping retailers sell more craft beer. By removing logistical and legal roadblocks, TapHunter is creating a fundamental shift in the way bars, restaurants, bottle shops and tasting rooms are marketing, selling and purchasing craft beer. 
What are your startup's three biggest challenges to growth?
The recent nationwide recession seems to have had little impact on the growth of the craft beer market. Craft breweries continue to attract a growing fan base willing to spend money on high-quality, small-batch, craft-brewed beer. These fans are typically highly knowledgeable, tech savvy and financially stable. 
The craft beer market is also growing in revenue. Our biggest challenge right now is growing more quickly and getting into more cities - faster!
How has Startup America helped you overcome these challenges to growth?
Currently we're helping to support launch day in San Diego. It's a great way to bring together all of the cities startups so we can learn from each other.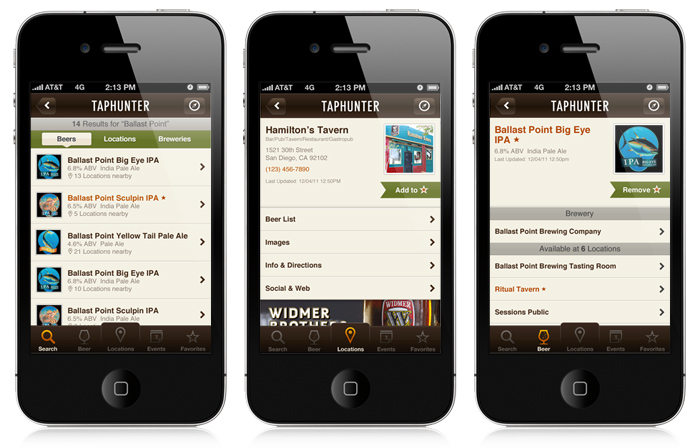 Why should startups join Startup America?
Startups should join because it's important to be apart of your local ecosystem and support its growth. With a great startup ecosystem comes a larger talent pool and interested investors.
What is the startup culture like in your City/State?
With the launch of San Diego's first official startup incubator, EvoNexus, the community has really started to rally behind the emerging startups here. It's San Diego's time to shine, even the Mayor is paying attention and supporting.
TapHunter was recently honored with acceptance into EvoNexus in San Diego, one of the first no-strings-attached startup incubators in the country. They were one of 17 selected out of hundreds of leading edge companies.
Learn more about TapHunter
Startup America Member since March 2012
Region: California
Web: www.TapHunter.com
Twitter: @taphunter
Facebook: www.facebook.com/taphunter
Pinterest: http://pinterest.com/taphunter/
Connect. Learn. Shine. Grow. Click to join over 7,300 Startup America startups: